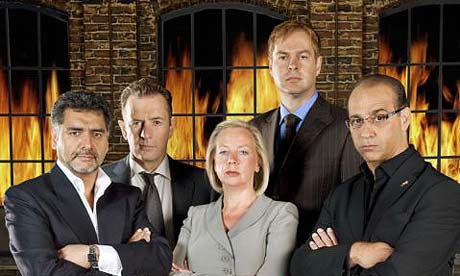 Over the holidays I watched a re-run of one of my favourite British TV shows, Dragons' Den. Every time I watch the show I think the same things about most of the contestants: "no, you're doing it all wrong!". Now of course some people get it right, usually leaving with the investment they were after. But most don't.
Here is how I'd approach it.
Pitch the business not the product
So many contestants show off their invention or idea, rather than talking to the Dragons about the business opportunity and how the Dragons can help them build the business. They talk mostly about the product of the business, not the business itself. How can a real, sustainable business be built around the product or idea?
Occasionally it is such an innovative idea that it's obvious how they can build a business around it, but often the contestant's inner geek rears its ugly head and they bang on about features and gadgets and how good the idea is. To make maters worse, often they're solving a problem that doesn't even exist.
The Dragons don't actually care about the product, they want to know what the business is; How will it make money? How much money? How long will it take to make the money? What's the sales channel? Will it even make money?
If you enter the den you need to clearly articulate these aspects of your business model, including:
Who is the target market?
Who are the end users?
Why would they want it? What would they use it for?
What else out there is an alternative? (who are your competitors?)
What will they pay for it?
You don't need to be a business whizz, after all that's why you're going to see the Dragons. The Dragons say it quite often, if you have all the answers, if you've got it all figured out, what do you need us for?
So you don't need to have all the details (such as market research regarding size of the market, or complex pricing models) but it helps, especially when it comes to valuing the business opportunity, what your business will be worth. You do need to have thought about it though. You need the solid foundation on which everything else will be built.
Be prepared to talk business
To be fair most people who appear in front of the Dragons do seem like they have prepared (though some probably aren't the best to be pitching the pitch themselves) but have they prepared the right thing?
Extending from the point above, they've probably practiced demonstrating the invention, got it all working and can talk about it in detail…but they can't talk about the business side of it.
To do this may mean doing some homework, like reading up on the basics of a business plan. Talk to other business owners and see how they 'got there'. Don't just talk to your friends or other inventors, who are likely to be also too focused on the product or are just telling you what you want to hear.
I'd probably try approaching a relevant business to ask for investment, to hear what they ask and what they'd want to know from me, before appearing on international TV!
Think about other products
A successful business needs more than one product. What else will the business do once that first product moves through its life cycle? You don't want to be a one trick pony. Think about what else can be done.
One case that comes to mind is a guy who invented a new type of emergency flotation device for boat owners, where personal objects such as your keys will float to the surface using a small balloon. The thing that got the Dragons most excited was the prospect of a whole line of products based on the technology, scaling the original product up to potentially a system that could be used to lift the whole boat.
Again it's the difference between inventing a clever thing as opposed to developing a business.
Court them not just their money
Sure the money the Dragons will invest is important but I would be more focused on the value of their knowledge and experience in running a successful business. I'd be up front about areas of my business plan that could be improved, with their help. For example, where manufacturing is involved their expertise could help lower manufacturing costs and increase profit, without even changing the product or business model at all.
I'd make this part of my pitch; not only do I need this much money but also what expertise I think the business needs.
Take the offer!
The worst thing I see on this show is a contestant who manages to get an offer of investment from a Dragon (sometimes multiple offers) but turns it down, typically because the equity share is higher than they wanted. That's insane.
I know it's hard to relinquish control of 'your baby' but if you have a successful business person saying they want to help you, you should jump at the chance! I recall one contestant saying "it's better to have 50% of something great than 90% of nothing" and I think that is so true.
By the way, I'm assuming that most of the contestants are like me and have little business experience, so I think it's ludicrous to knock back what will probably amount to your 'big break'. After you make this business successful, and you've learnt heaps, then you can go off and start another business and maintain total ownership, if you want.
Don't tell them how to suck eggs
Following that last point, you don't have the same level of business expertise As the Dragons–otherwise you wouldn't be in there. So don't argue with them, and don't tell them they're wrong.
If you do you'll make a fool of yourself. There have been several cases of contestants who didn't make a deal with the Dragons–or did but it fell through off air–who ended up finding other investors off the back of the exposure from being on the programme in the first place. But nobody wants to work with an arogant dick and they especially don't want to give them money.
Now, I just need to come up with an idea for a business :)